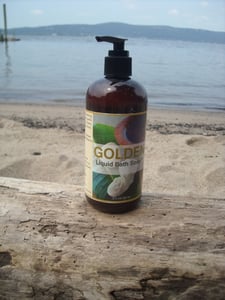 $

12.00
Our 12 ounce/355 milliliter liquid bath soap is a natural, refreshing liquid soap made from deionized water, palm leaves of the west African palm tree, palm kernel oil, cocoa pods, and shea nut butter. These ingredients are especially good for relatively dry or sensitive skin.
Our liquid soaps are gentle on the skin as they clean, moisturize, and protect the skin.
Palm leaves provide the ash used in making soap to lather. The palm kernel oil is rich in vital nutrients including vitamins A and E¹.
Cocoa pods greatly moisturize the skin and contain strong antioxidants that give the product a long shelf life.
Shea nut butter comes from the shea nut tree of west Africa and is one of Africa's most sustainable resources. Rich in vitamin A and E, shea nut butter promotes skin renewal. This natural ingredient adds to the emollient properties.
A few squirts into a small bowl or on a wet washcloth goes a long way and produces remarkable lather that washes you clean, really clean, without drying and most importantly without any chemicals.